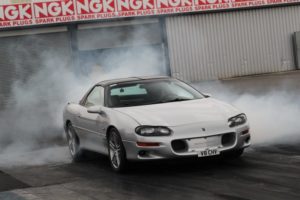 Owner: Jack Petley
1999 Chevrolet Camaro Z/28, 5.7L LS1 with a 4L60E and a 2.73 rear end
Best E.T 12.32 at 112MPH
I have owned the Camaro for about 18 months now, and have put a bigger cam, higher stall converter and bolt ons so far. The majority of work being carried out by my Dad and I.
Russ and his team at Customville are always very helpful, nothing is a problem and are there with advice and their years of knowledge. They have a large amount of items in stock, and if he doesn't, usually has most parts within a few weeks.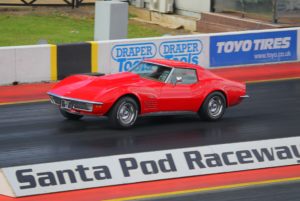 Owner    Gary Petley
1972 Corvette Big Block coupe, 454ci with a TH400 and a 3.36 rear end.
Best e.t. with N.O.S 11.80 at 124mph only using the gas in 2nd and 3rd
Best e.t. without 12.30 at 115mph
I have owned this car for the past 30 years and have carried out the majority of the maintenance myself, the engine, gearbox, and rear axle have all been re-built and I have used Customville for the majority of spares and consumables over the years. Nowadays with the internet its very easy to buy parts from all around the world and it will probably save you money but if you want a reliable service with one of the UKs oldest American car parts specialist then give Russ and his team a call to see if they can find what you are looking for, you might be pleasantly surprised!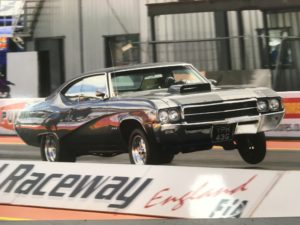 1969 buick skylark
462ci stg 2, ally stage 2 big valve heads, sp2 intake, 1000cfm carter racing carb, msd comp dizzy with msd 6al, coil and 8mm leads, super comp headers with 3″ exhaust complete with flowmaster boxes.
race prep turbo 400 with 3500 stall b+m converter, b+m shifter, deep pan and trans oil cooler.
comp engineering suspension bushes and shocks all round boxed rear end, boxed rear arms, gs 350 springs all round with stage 1 rear anti roll bar.
stock interior with gs350 front seats.
h/d stock brakes all round with font line lock.
all steel body with stage 1 rear spoiler and stage 2 hood scoop.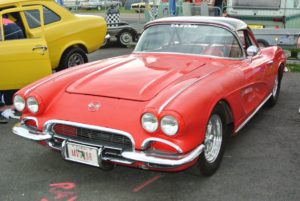 Paul Bentley
CAR    1962 Chevrolet corvette
ENGINE 5.3 lm7 with BTR blower cam hooker headers ls6 intake 80lbs deka injectors 243 heads holley HP ecu
BOX th400 jw ultrabell B+M transkit  ptc 10″ convertor
SUSPENSION  FRT jim meyer ifs
REAR 9″ ford with hauser 4 link
WHEELS/TYRES FRT 6×15 polished American racing saltflats+196/65/15 tyres
REAR 8×15 polished American racing saltflats +275/60/15 mt drag radials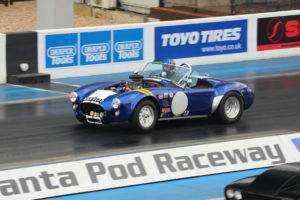 rick skelsey
ram cobra,space frame bodied, 414ci cleveland with 4 speed top loaded gearbox, twin plate clutch, jag rear axle with large driveshafts.
best 1/4 mile 11.01 at 127mph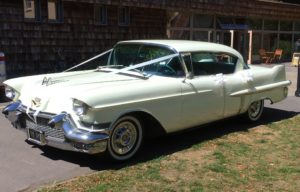 Dave Coote
This is my '57 Cadillac Sedan DeVille, I purchased her from Tilburg Holland, about three years ago. She needs a little work and a complete interior refurb, but otherwise she is a solid is car. I use her for weddings to help with her upkeep.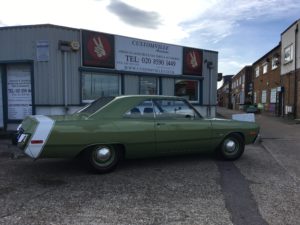 jim
73 dodge dart
very clean stock as close to original as possible
225 slant 6 with 390cfm holley 4 barrel car and offenhauser manifold with clifford headers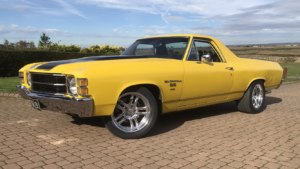 Gary Sharp
1971 Chevy El Camino
396ci big block
american racing polished wheels with Mickey Thompson tyres
wilwood brakes all-round
hotchkis suspension
Billy Gane
1
968 Vauxhall Victor FD with a complete tube chassis and full steel body except the bonnet which is fiberglass. The engine is a 662 Cubic Inch (10.8 litre) big block ford with twin carbs that runs on C16 race fuel and produces roughly 1100 BHP, the engine is equipped with a 3 stage nitrous kit that allows us to add up to 600 extra horse power. The power gets sent through a J.W Ultra Glide 2 speed transmission and to the rear axle that has a  Mark Williams 40 spline centre section.
Our personal best over the standing 1/4 mile is 8.12 @ 168 mph without nitrous, and 7.78 @ 178 mph with a 200 shot of nitrous.
Born out of a requirement to circulate a 400 metre oval in the fastest possible time in the company of up to thirty other cars with similar characteristics, these 1500 kilogram motorised leviathans have the mandate to forceably remove slower cars from the racing line whilst engaging in a multiple lap challenge that goes beyond conventional motor sport.
Slow-rolling laps signal the start of each race and when the white-roofed cars come out of turn four, the green flag drops and it's action all the way, as in excess of 12500 cubic inches of engine capacity converts the arena into a supercharged, no holds barred cauldron for oval supremacy over a minimum of sixteen laps.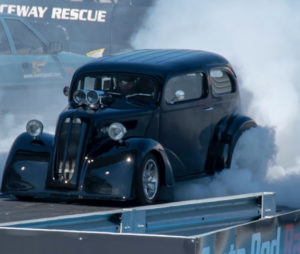 pete jones
blown small block chevy powered pop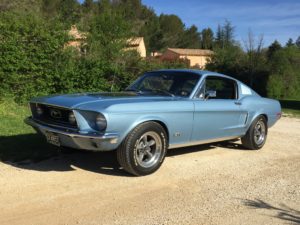 jean-marc
beautiful 1968 ford mustang 390gt,
residing in France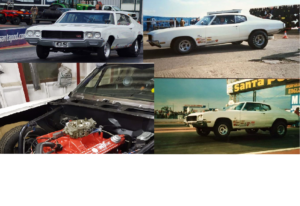 The car was found on a Raf base and was owned by a guy called Colin Osbourne, it was brought my My Dad and his friend Gary in 1986. The car was brown with a red bonnet and slot mags. At the time it was a stock Buick 455 with a 750 double pumper open headers and slicks. The car was regularly run at North weald running around mid to low 13's.
Gary parted ways with the car and dad made the decision to take it on himself. As time passed the car got more love and attention and was treated to its first lick of white paint, Dad competitively run the car for around 3-4 years chipping away at his Et running I think his best of 11.6. Early 90's the decision was made to build the car to its almost identical state you see her in now. The car was then raced competitively for another 10 years. I now own the Car and have plans of using her as much as I can, small competitive bracket weekends and RWYB, I also would like to achieve at least one full competitive race season with the car if Money allows.
462ci
Forged +30 pistons
genuine stage1 Gs cylinder heads re worked by ICE automotive
SP1 intake
1050 Dominator
Dana 60 Rear Axle
back half by Webster
2800lbs weight
10.701
122MPH
1.47 best 60ft
No Gas
Submit your review

Submit

Cancel
Customville American
Average rating:
0 reviews